Skip to Content
What Happens When a Divorce is Contested?
Why Do I Need a Divorce Attorney in a Contested Divorce?
Ending a marriage is rarely an easy decision, and when the parties can't agree on the terms of a divorce, legal help is often necessary. If you are seeking a divorce but cannot come to an agreement with your spouse on dividing your assets, parental responsibility (formerly custody), timesharing with the children, and child support, or other major concerns, retaining a knowledgeable contested divorce attorney is the best way to protect your rights. A contested divorce is more complicated than an uncontested case and may take substantially longer to resolve. Having a qualified lawyer on your side is essential if you want to successfully navigate that process in Palm Beach County, Florida. At Hudson Family Law, we understand Florida law and the sensitive issues surrounding divorce. Contact us today for information on our practice areas, or to schedule a consultation.
What Does a Contested Divorce Mean?
Florida is a no-fault divorce state, so one party may file for divorce based on the marriage being broken beyond repair, even if the other party is not in favor of the divorce. The divorce will be granted with only one party requesting it.
Deciding how to divide possessions or address parental responsibility during and after the divorce is another matter. When a couple agrees on the details of how to break up, the divorce is uncontested. When a couple cannot agree on key points, it becomes contested; this may lead to a trial if a settlement cannot be successfully reached. In Florida, a divorce is contested when parties cannot agree on:
Division of Assets/Debts
Child Visitation, Support, or Parental Responsibility
Alimony
Temporary support in the form of child support and temporary alimony during the pendency of the divorce
The payment of attorney's fees and costs during the divorce by one party for the other
Exclusive use and possession by one party of the marital residence
Mediation is required prior to any hearing, except for an emergency hearing, or a trial, nd is particularly important if the parties are in disagreement. If mediation fails, the case will go to a trial in front of a family court judge. Capable, skilled representation is critical to protect your interests during mediation or a trial. At Hudson Family Law in Palm Beach Country, Florida, attorney Lise Hudson has extensive experience with contested divorces and other types of family law. Contact us today to learn how we can help you in your divorce case.
5 Steps in a Contested Divorce in Florida
Retaining a divorce attorney
The complexities of a contested divorce make it highly inadvisable to try handling such a case without proper legal representation from contested divorce lawyers. If you anticipate your divorce will not be amicable, seek counsel as soon as possible. When you work with Hudson Family Law, you can depend on receiving thorough, caring guidance from our attorney.
The divorce petition is filed, and the summons is delivered
The spouse who initiates the divorce is the party who files the papers with the court. A process server then serves the other spouse with a summons, and that spouse has 20 days to respond. If no response is given, a default judgment of divorce is granted to the initiating spouse.
Information is released during the discovery process
Discovery is the fact-finding portion of a divorce, where the parties must exchange information and evidence like bank statements, asset records, and other relevant documents.
Mediation
Before going to trial in a divorce case in Florida, mediation with a neutral third-party is required. The mediation process may be enough to settle any disputes, but if not, the case will go to trial.
Trial
When mediation is unsuccessful, the divorce will go to a family court judge. In Florida, these cases are bench trials, which means there is no jury. The judge will render a decision.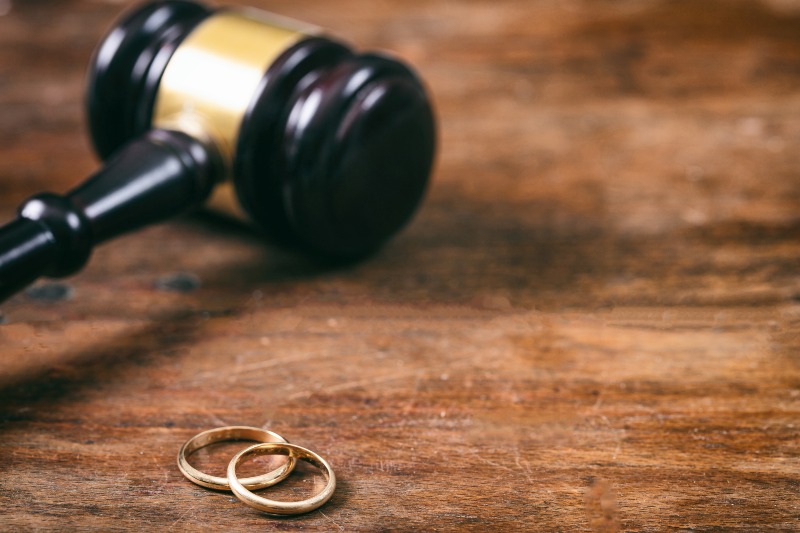 How Long Does a Contested Divorce Take in Florida?
The length of a contested divorce depends on many factors. Contested divorces take longer than uncontested cases, but each divorce is unique. One person's case might be settled in six months, while another person's case could take years.
What Must be Settled in a Contested Divorce in Florida?
The major points of contention must be decided before a contested divorce can be finalized. Either through mediation, negotiation, or trial, decisions must be reached about the division of property, assets, and debts, as well as any questions related to child custody, timesharing, or child support. If alimony is an issue, that must also be decided.
At Hudson Family Law, our team has helped scores of people with their contested and uncontested divorces. We provide professional, compassionate assistance for family law matters like divorce, child custody, paternity, and abuse. Contact Hudson Family Law if you need a qualified and experienced contested divorce lawyer in Palm Beach County, FL.
Schedule a Consultation Today